Founded in 1887, the Newberry is one of Chicago's most historic cultural institutions. Curious people from all over visit to research topics of interest, discover their family history, take classes, or learn something new and unexpected.

Inquiring minds want to know. We want to help.
Our collections, programs, and exhibitions are a portal to more than six centuries of human history, from the 15th century to the present. The Newberry welcomes anyone who is eager to learn about who we are, where we came from, and where we are going. Our community of learning includes historians, genealogists, visual and performing artists, writers, graphic designers, teachers, students, and many, many others.
A Brief History of the Newberry
Walter L. Newberry, a businessman and civic leader in Chicago who died in 1868, left a provision in his will calling for the creation of a "free public library." Newberry was light on details. He couldn't predict how the library might best serve Chicago by the time it opened. As a result, Newberry staff shaped the institution around the needs of the city.
To complement the Chicago Public Library, which had been established in 1872, the trustees decided to found a non-circulating reference library that would be free and open to the public.
Before the Newberry opened in 1887, it had no collection to offer visitors. Walter Newberry's own book collection, which might have served as a foundation for the library, had been destroyed in the Great Chicago Fire of 1871. And so the Newberry's first librarians grew the library's collection from the ground up.
Today, the Newberry collection extends across 27.5 miles of shelving in the library stacks. And it's still growing. We acquire and preserve materials that represent a range of perspectives and experiences—including those that historically have been marginalized, misrepresented, or silenced.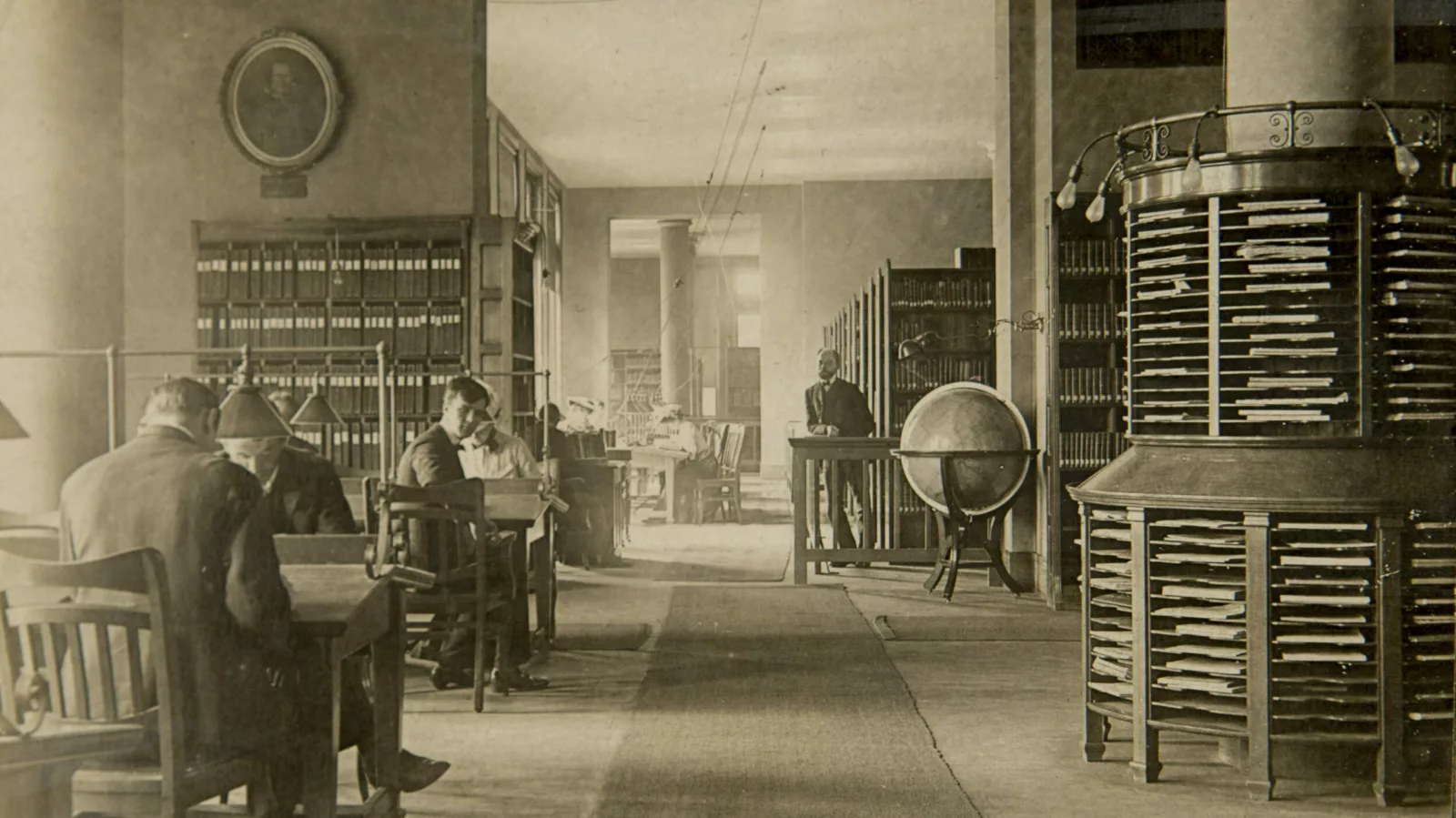 Mission and Strategic Plan
The Newberry fosters a deeper understanding of our world by inspiring research and learning in the humanities and encouraging conversations about ideas that matter to diverse audiences. Our mission is rooted in a growing and accessible collection of rare and historical materials that spans more than six centuries of human experience.
The Newberry's five-year strategic plan rests on four pillars:
Advance and Disseminate Knowledge
Build, Diversify, and Sustain Communities of Learning
Grow, Preserve, and Increase Access to the Collection
Strengthen Institutional Health
Curiosity lies at the heart of our activities. A spirit of inquiry both fuels and is fueled by the curiosity of all who engage with the Newberry.
The Newberry inspires and supports learning by inviting library users and staff to advance their knowledge through research, scholarship, and public discussion. We view knowledge as an exchange—freely shared and received.
Always being attuned to the needs and desires of library users onsite and online helps us guide their engagement with our collection, staff, and learning opportunities. Our sense of service also guides our behavior toward our own colleagues, which helps create a culture of mutual respect in which we all advance the Newberry's mission together.
The value of our collection and expertise is enhanced by our capacity to connect to what is happening in the world—locally, nationally, and globally. For this reason, we focus on how our resources matter, and how to make them matter more.
The Newberry's vitality requires that we both find ways to attract new and diverse participants to our offerings and foster a sense of belonging among all who participate. We do this by being intentional about connecting people, building trust across groups, inviting multiple perspectives, and asking whose stories are told, by whom.
Our Collection Is Your Collection
The Newberry holds millions of sources that chronicle personal stories and historic moments across time.
Learn More
Exhibitions
Exhibitions bridge the past and present using historic items from the Newberry collection.
Now on View