Though we'd like to think otherwise, presidential inaugurations can be tense affairs. But none was more tense than the inauguration of Abraham Lincoln in March of 1861. Take it from William W. Averell, a United States (and soon-to-be Union) Army officer whose reminiscences of the event (preserved in a manuscript at the Newberry) give a first-hand account.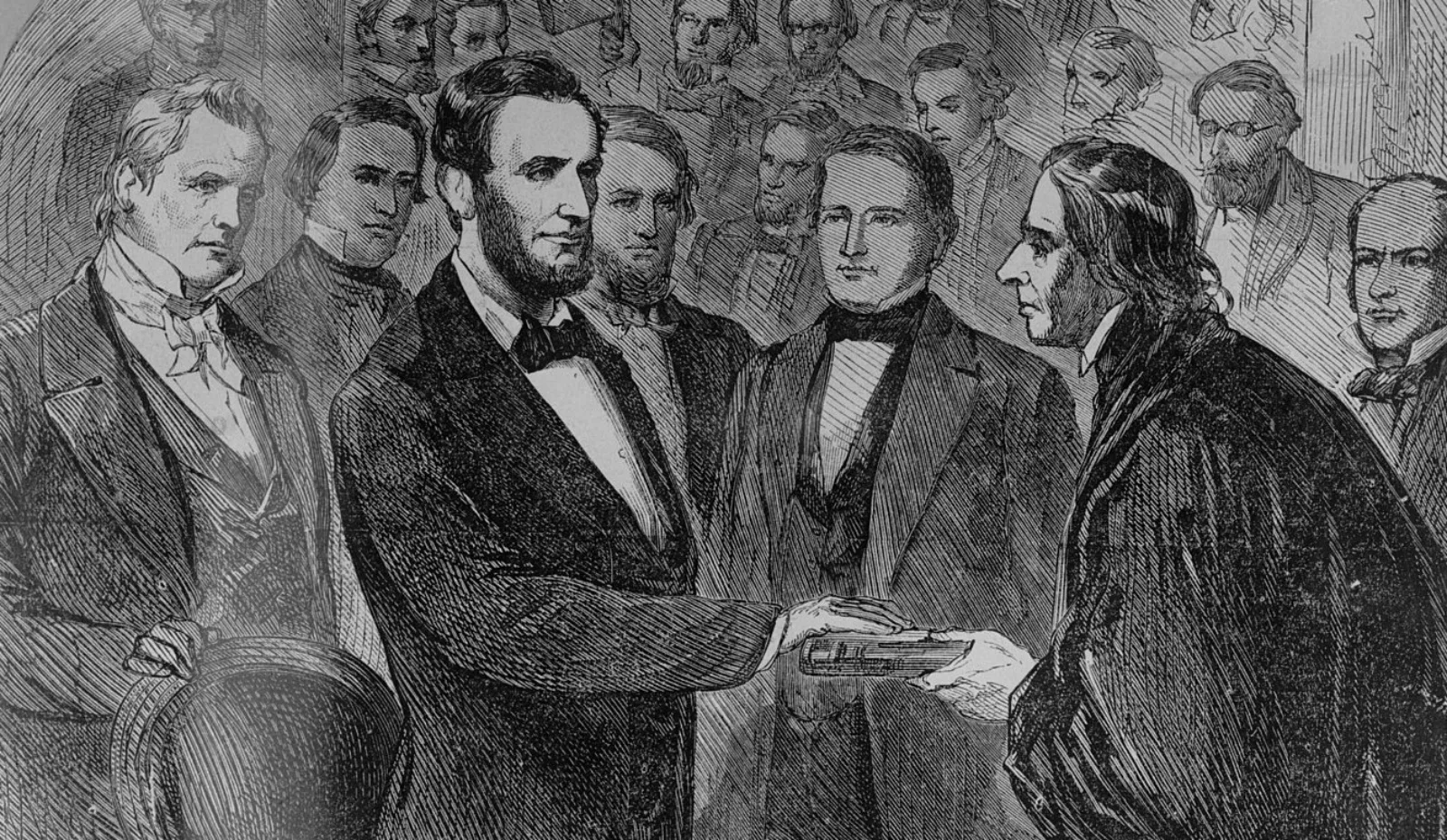 The months between Lincoln's election and inauguration were easily among the most nerve-wracking in our country's history. Lincoln was elected president in November of 1860 after running on an anti-slavery platform. Fearing that the new president would attempt to suppress slavery in the South, a group of Southern states issued declarations of secession between late December and early February. Soon after, seven of them—South Carolina, Georgia, Florida, Alabama, Mississippi, Louisiana, and Texas—announced their intention to form a new political entity, the Confederate States of America. By early March, war between the United States and the breakaway Confederacy seemed inevitable.
Because he was on sick leave, Averell—a New York-born and West Point-educated second lieutenant in the US Army Mounted Rifles—was able to travel to Washington on February 25.
"Apprehending that I might be overlooked or forgotten in the preparations for the coming war," he sought "to show myself ready, in case of necessity, for any service that might be required."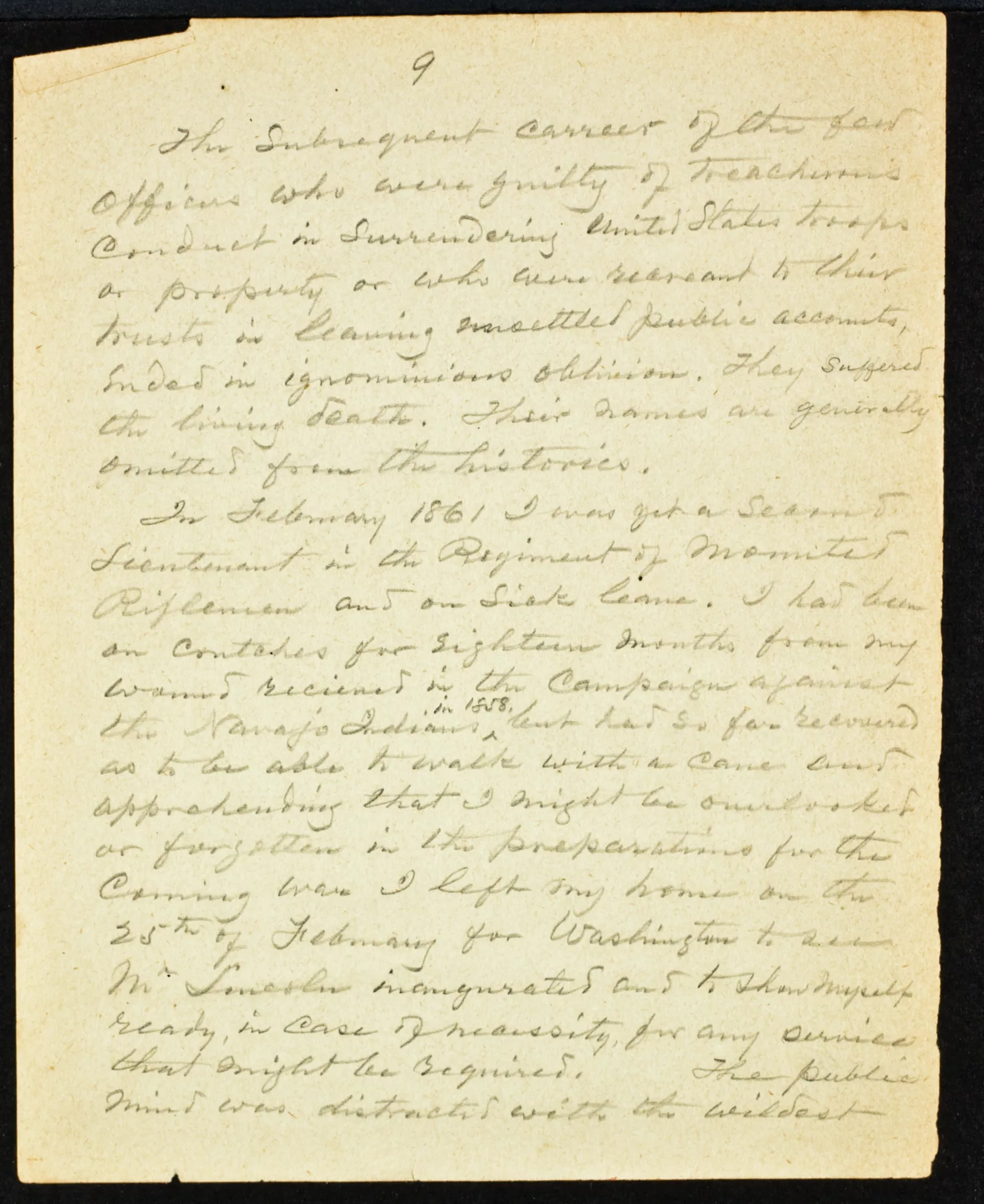 Once in Washington, he toured the city, taking its temperature, and found the capital on high alert about the upcoming inauguration.
"The public mind was distracted with the wildest apprehensions about the safety of the Capital," he wrote, "and even of the life of the President elect who had arrived in Washington on the morning of the 23d, after running an alleged gauntlet of conspiring assassins on the way."
Meanwhile, "[e]veryone was feverishly asking or imparting the latest news…Intense brooding apprehension possessed all thinking men. Washington had a little the aspect of Herculaneum listening for the throes of Vesuvius," Averell concluded, referring to the Roman town destroyed by the infamous volcano's eruption in 79 AD.
Averell was only one among many who'd traveled to the capital in anticipation of the inauguration.
"Washington was crowded with people very few of whom seemed wholly sane," he wrote. At the same time, military men of all stripes had flooded the city, like Averell looking for opportunities to be of use. Even so, he wrote, "[t]he chiefest and last lingering hope among us was that no gun would be fired and that some miraculous thing would come out of the Peace Congress…or from some source by which the terrible strain of the situation might be relieved."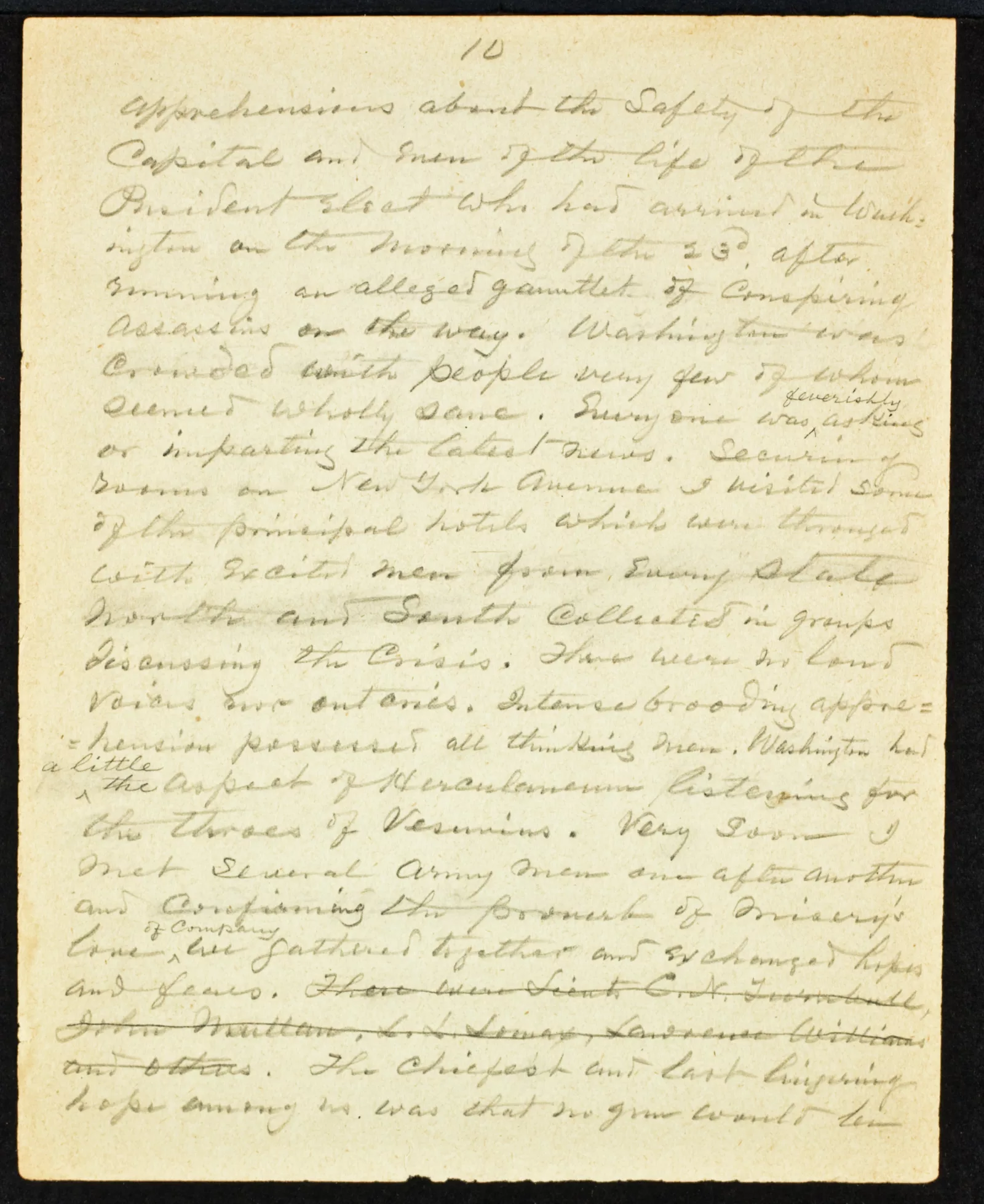 On February 26, Averell and a few of his fellow officers visited Washington's tomb before paying a visit to Lieutenant George Washington Custis Lee, oldest son of Robert E. Lee.
Very like his father in personal appearance and innate dignity of manner it was an agreeable surprise to find him quite ready to speak on the supreme questions which engrossed all men's minds at that moment. He exhibited the deepest emotion in stating his attitude and his last remark was "Averell that Arlington Estate over the river is mine. I would give it in a moment, and all I have on earth if the Union could be preserved in peace, but I must go with my state," and I left him leaning his elbows on the mantlepiece with his face buried in his hands, overcome with profound grief.
As the March 4 inauguration approached, tensions ran higher and higher, and "the air was charged with alarming rumors of intended efforts to prevent it and to assassinate Mr. Lincoln." Averell continued making calls. On March 1, he visited General Winfield Scott, who managed to calm his nerves about the upcoming ceremony:
Never was I so impressed with the personal grandeur of any man as I was with that of the old hero on that occasion. Grand, as a Colossus in repose, thoughtful as [Michelangelo's] Moses and as calm as a lofty mountain brow towering above the storm, unworried and unwearied his whole expression was comprised in the word Ready. He received me graciously and after making particular inquiries about my health and strength he asked me many questions about the temper and sentiments of the Northern people as well as of the feelings and purposes of the Army officers whom I had recently seen. Regarding the inauguration he said "Mr. Lincoln will be inaugurated without any disturbance, every point is covered'…The visit was a consolation to me–the comforting "shadow of a great rock in a Weary land."
Thankfully, the inauguration went off without a hitch, and Lincoln was sworn in on March 4. But the overwhelming tension felt by Averell in Washington was soon to explode into violent conflict: a month later, Southern secessionists opened fire on Union troops at Fort Sumter, initiating the Civil War.

About the Author
Matthew Clarke is the former Communications Coordinator at the Newberry.