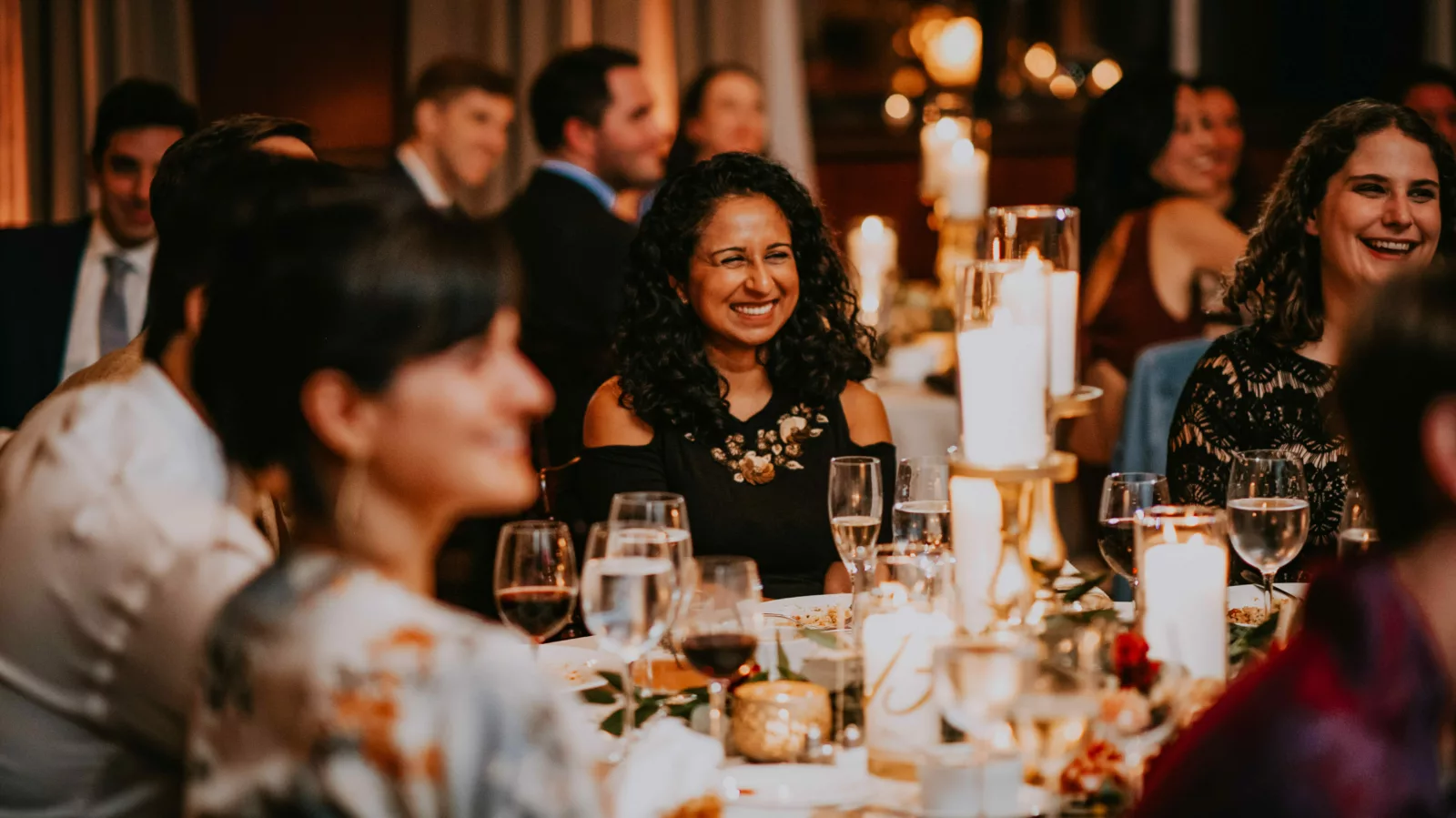 Frequently Asked Questions
The Newberry is not currently available to accommodate full-scale wedding reception rentals. If you have your heart set on the Newberry, we can offer shorter event options. These options include standalone ceremony or ceremony and cocktails, as well as special event photography sessions for every occasion.
Please inquire for more information.
Contact us for further information at (312) 255-3595 or via email, and a staff member will follow up with you. We encourage you to make inquiries early to ensure that the space you'd like to book is available.
Exclusive rental is available Monday through Saturday for events starting at 6 pm.
Non-exclusive rental is available during business hours: Tuesday - Saturday for events starting at 8 am. Corporate and social luncheon/meeting spaces are available during library operating hours.
Each room's capacity varies based on the type of event you're hosting and the room setup that you require.

Lobby
Seated dinner or program: 80 guests
Strolling reception or cocktails: 160 guests
Ruggles Hall
Lecture seating with perimeter reception: 150 guests
Seated dinner or program: 208 guests
Strolling reception or cocktails: 250 guests
Event with a lobby cocktail component: 160 guests
Rettinger Hall
Lecture seating with perimeter reception: 50 guests
Seated dinner or program: 80 guests
Strolling reception or cocktails: 100 guests
Baskes Boardroom
Lecture seating with perimeter reception: 50 guests
Seated dinner or program: 80 guests
Strolling reception or cocktails: 100 guests
Yes! The Newberry Library has multiple accessible entrances, elevators, and restrooms in compliance with ADA guidelines and expectations.
Absolutely! An experienced Newberry representative will be onsite as your venue manager, assisting with vendor arrivals, load-in, set-up, event execution, teardown, and load-out. The Newberry also provides representatives from our Facilities department and 1 - 2 security guards to monitor cameras, entrances, and exits throughout the entire event.
For exclusive use rentals, the Newberry includes use of our parking lot (35 parking spaces).
For non-exclusive use rentals, limited parking spaces may or may not be available in our lot. For additional parking needs, the Newberry offers discounted parking at a nearby garage located at 100 W. Chestnut. Pricing: $11 for six hours or less; $13 for eight hours or less. We can validate parking onsite at the Newberry.
For exclusive use rentals occurring October – May, the Newberry provides a coat check service with one (1) complimentary staff person (which is suitable for events with up to 125 guests). Additional staff may be arranged for a nominal fee.
Yes. Included in your rental fee is use of our built-in, state-of-the-art AV equipment. Generally, this includes a projector, a projector screen, microphones, amplification, mic stands, and a podium.
The Newberry does not charge an AV use fee. However, we strongly recommend that clients hire an AV technician to manage, troubleshoot, and support all tech needs during your event. AV technician recommendations are available upon request.
We also require a two-week advance testing of requested equipment.
We provide comfortable formal chairs, round dinner tables, cocktail tables, 6' and 8' rectangular tables, coat racks, and podiums.
We also provide some smaller decorative items like candles, which can be placed in the lobby staircase, window alcoves, and event spaces. Other décor may be available upon request.
Yes, we can provide a baby grand Steinway piano for use at your special event. For a nominal fee, the Newberry can also arrange a special tuning at your request.
Yes, our exhibition galleries will be open year-round for guests to enjoy during a portion of your event. We do not allow food or drinks inside the galleries.

Yes. The Newberry has a list of preferred hotel partners that offer special group rates to our rental clients. When booking rooms, please mention the Newberry's preferred rate.
As room rates fluctuate throughout the season, please contact the hotel for the most current information.
Yes. At the Newberry, we have a list of exclusive caterers with excellent reputations for taking care of our clients. They're all generally in the moderate price range (typically $100-$125/per person for wedding events), not including alcohol. Please contact us for a list of our exclusive caterers.
If the proposed caterer is able to provide proof of all Newberry-required licensing and insurance minimums, we will gladly consider exceptions to our exclusive catering list in order to accommodate Kosher, Halal, and other dietary needs.
These caterers must be pre-approved by the Newberry prior to contract signing.
An exception use fee will be assessed (to be paid by client, caterer, or a combination).
Aside from caterers, you are welcome to use any of our suggestions for vendors (available upon request). We allow you to bring in other vendors, so long as they meet our requirements (see the next FAQ).
We ask that you let us know your selected vendors before you sign a contract, so we can be sure they carry appropriate insurance and are prepared to work in our historic building.
Yes, the Newberry does have liability insurance. However, we require that all vendors performing in our building provide proof of insurance that meets our specifications.
We reserve the right to change our requirements for any event. Certain events will be evaluated on a case-by-case basis to determine if additional insurance is necessary.
Your catering staff is in charge of setting up and tearing down the event. All our caterers are familiar with the library spaces; they will provide the appropriate staffing for your event, as well as rentals like glassware and linens.
Yes. The preferred BYOB providers for the Newberry are Prestige, Mainstreet, and Garfields, though Binny's or another provider can also be arranged with a timed delivery.
Alcohol must be handled and served by certified bartenders with a current liquor license. Generally, your caterers provide the bartending staff and liquor license, and they will also set up, serve, and break down your bar. Shots are not permitted at the Newberry.
As a special collections library, we have to follow protocols for preserving the historic materials in our building. We allow votive/enclosed candles, as long as the flame is below the level of the glass. All candles must be at least one foot off the floor. Taper candles are not allowed.
The Newberry Bookshop offers a variety of unique souvenirs for your event, from literary-themed gifts and toys by local artisans to journals, postcards, and books.
We'd be happy to help you find the perfect memento. Feel free to email us or call us at (312) 255-3595; we can talk through different options, or we can arrange a time for you to visit to peruse the store's offerings.
The library's reading rooms will be closed during your event.
All payments are considered non-refundable. However, if we are able to re-book your date, we will return all payments (minus an administration fee). If we are unable to re-book your space, a refund will not be possible.
Events may be rescheduled, pending availability. You will be responsible for any difference in the rental fee, plus an administration fee.
If an event is cancelled or attendance is significantly limited due to a public health/safety emergency declared by the City of Chicago, and/or the State of Illinois, and/or the Center for Disease and Control and Prevention, the Newberry will postpone your event to a mutually agreeable date, applying any non-refundable payments to that future event.
Interested in getting a quote? Fill out a brief form with some information about your event, and we'll promptly get back to you.
Don't See Your Question in the FAQ?
Contact Us
Send us an email, and we'll be happy to help you with your event planning.